Unfilled woven polypropylene tube rolls (also known as Earthbag or Superadobe) are the main construction material for all flexible form rammed earth structures. Tubular rolls are cut to the desired length to give you a continuous span that will provide tensile and compression strength well beyond short sandbags. "Flexible form" means you can conform the bags to nearly any configuration conceivable from sharp angles to elegant curves. While the infrastructure possibilities are seemingly limitless, the most common structures are:
Houses
Storage Sheds
Retaining Walls
Privacy Walls
Flood and Erosion Control
Landscaping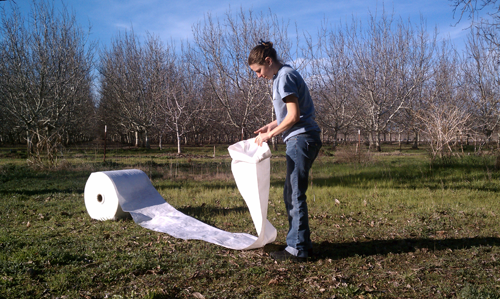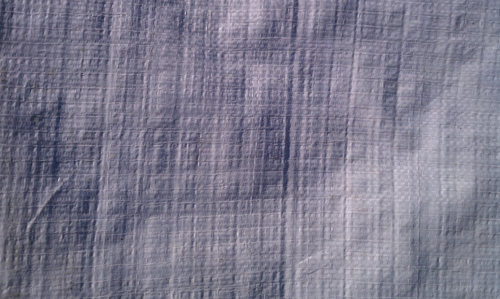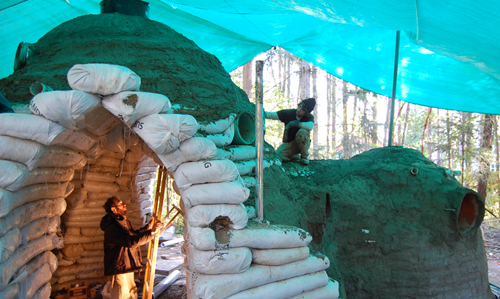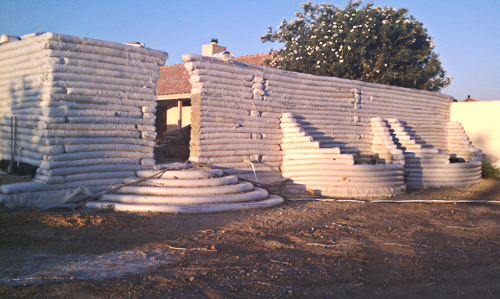 Bag Sizes & Prices
Bag
Width
Filled
Width
Tube Roll
2,000 yard
14 inch
11 inch
$1,125*
18 inch
14 inch
$1,300*
*Price does NOT include shipping.
Tubular Sandbag Roll Product Specifications:
900 Denier (mass density of fibers)
10mm x 10mm Weave
1,600 UVI Hours, sunlight protection (over 300% more than Cal-Earth bags)
250 pounds Total Weight



Required Material Lengths:
Use the table below or our Bag Calculator (COMING SOON) to estimate the amount of bag you require for your project. If you would like a custom quote for your build, post your inquiry HERE; the more detail you are able to provide, the more accurate the estimation will be.
Construction Estimates
| | 8 Foot Dome | 10 Foot Dome | 12 Foot Dome | 15 Foot Dome | 8 Foot Wall |
| --- | --- | --- | --- | --- | --- |
| 14 Inch Bag | 220 yards | 315 yards | not recommended | not recommended | 280 linear feet |
| 18 Inch Bag | 210 yards | 300 yards | 370 yards | 540 yards | 340 linear feet |
| Domes per Roll | 9.1 domes | 6.3 domes | 5.4 domes | 3.7 domes | n/a |
| Square Footage | 50 sq. ft. | 78 sq. ft. | 113 sq. ft. | 176 sq. ft. | n/a |
Estimates may vary depending on individual builder's technique, and does not include support buttressing.
Shipping Information:
Our bags can be shipped anywhere in the world.
Method of delivery dependent on location and preferences.
Local pickup available for no extra charge.
Rolls will arrive between 5-14 business days.
We cannot ship to P.O. Boxes.
Each full roll weighs 250lbs.



Discounts:
Cash payments receive an immediate 2.9% discount.
Terra Form workshop alumni are eligible for a 10% discount for life.
Anyone with the rank of "Energy Spirit" or greater on terra forum receives an additional 5% discount.
If eligible, all discounts listed will be applied to your order.



Special Notes:
Each roll is individually wrapped and warehoused until time of purchase.
Polypropylene material MUST be stored in a dark place while not in use.
Tube rolls are sold in conjunction with workshop training courses;
Terra Form is not responsible for manufacturer defects.
"Filled Width" is an approximate measurement dependent on the builder's technique.
Be sure to check the local codes and building safety in your area before construction; if you need help, ask HERE.
Get project inspiration, training, construction advice and more on terra forum!
Smaller quantities are subject to availability. Specific material cut lengths will be subject to a cost-per-yard depending on length required. Please contact us for more information.
For more information or to order, please call 850-77-TERRA (850-778-3772)
You can also reach us using our contact page.